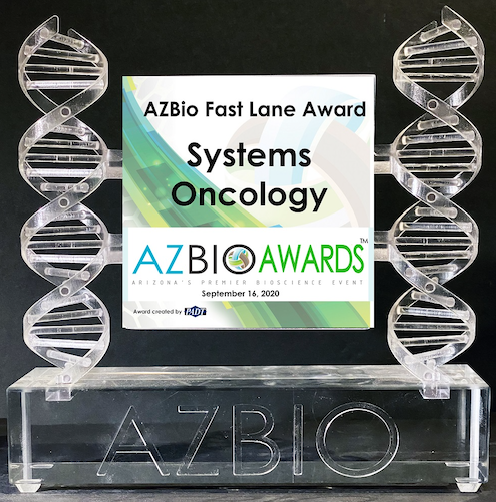 Scottsdale, AZ – September 4, 2020 – AZBio has announced today that Systems Oncology (SO) is the winner of 2020 AZBio Fast Lane Award.  SO will be featured as an honoree as part of a 1-hour prime time TV special "Celebrating Life & Science".  The program will premiere at 7PM MST on Wednesday, September 16 on CW61 with a simulcast on AZBio's Youtube channel and rebroadcast on ABC15 midnight Friday, September 18.  Watch it on demand here on AZBio's website.
Learn more about activities during the Arizona Bioscience Week here.
###
About Systems Oncology
Systems Oncology, LLC (SO) is an AI-based cancer therapy discovery and development company.  SO has a multidisciplinary team of scientists and a revolutionary cognitive computing platform (Expansive.AI) able to intelligently integrate, model, and mine big data from hundreds of molecular, genomic, and biomedical datasets.  This new kind of computational data mining has empowered the SO team to rapidly extract many therapeutically useful insights from complex multi-scalar systems models of cancer biology.  This scalable data-driven approach has been used by SO to translate many unique biological insights into dozens of discovery projects and research collaborations with leading universities, producing one of the fastest growing pipelines of innovative cancer therapies in the industry. For more information, go to www.systemsoncology.com.
Media Contact
Systems Oncology
Katy Marhenke
info@systemsoncology.com