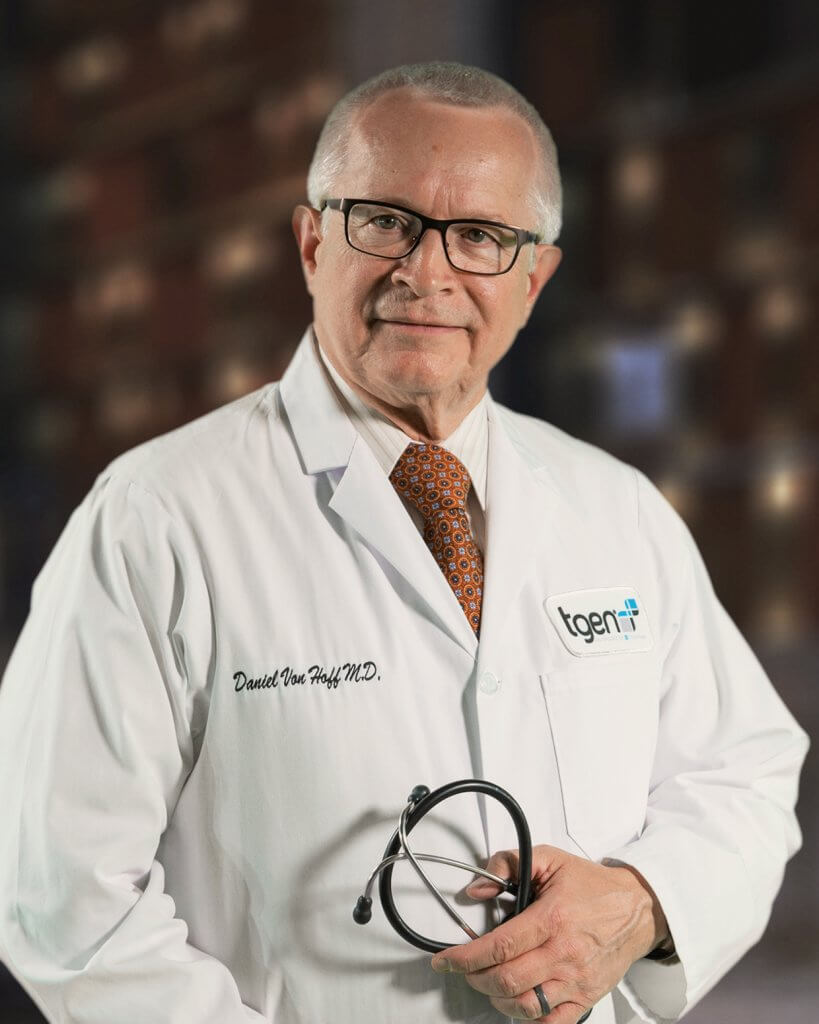 Daniel D. Von Hoff, MD, FACP
Dr. Von Hoff has been instrumental in the development and approval of many life-saving cancer therapies including gemcitabine, fludarabine, paclitaxel, docetaxel, topotecan, irinotecan, mitoxantrone,vismodegib, nab-paclitaxel and others.  He is currently Physician-in-Chief and Distinguished Professor at the Translational Genomics Research Institute (TGen), Professor of Medicine at the Mayo Clinic, and the Virginia G. Piper Distinguished Chair for Innovative Cancer Research at Honor Health Research Institute.
Dr. Von Hoff is a former member of the FDA's Oncology Drug Advisory Committee (ODAC) and served on President Bush's National Cancer Advisory Board.  He was previously the Director of the Arizona Cancer Center and former president of the American Association of Cancer Research (AACR).  He is a past member of the Board of Scientific Advisors of the National Cancer Institute, as well as a former board member of the American Society of Clinical Oncology (ASCO).  Dr. Von Hoff co-founded ILEX Oncology, Inc. in 1993, which was later acquired by Genzyme Corp. in 2004 for $1 billion.
Dr. Von Hoff has published more than 730 papers, 141 book chapters and over 1165 abstracts.  Dr. Von Hoff received the 2010 David A. Karnofsky Memorial Award from ASCO for his outstanding contributions to cancer research leading to significant improvement in patient care.  He has also edited the Cancer Chemotherapy Handbook and has had seats on the editorial board of 12 scientific journals, including the founding Editor-in-Chief of Molecular Cancer Therapeutics.  Dr. Von Hoff is also currently the Team Leader for the Stand Up to Cancer (SU2C Sponsored) Dream Team focused on developing new agents targeting pancreatic cancer.